The Green Man
I am the face in the leaves,
I am the laughter in the forest,
I am the king in the wood.
And I am the blade of grass
That thrusts through the stone-cold clay
At the death of winter.
I am before and I am after,
I am always until the end
I am the face in the forest,
I am the laughter in the leaves.
A poem by Mike Harding
Austin & Seeley
The mid 1800's proved to be a very good time for the emergence of fine quality composition stone. Along with the likes of Blanchard, Blashfield and Coade Stone, Austin & Seeley's new material proved to be so good for statues, urns, fountains and other ornaments for the garden that it was, in many instances, very difficult to tell it from real stone. It also proved to be durable enough to stand the test of time as well as the British weather.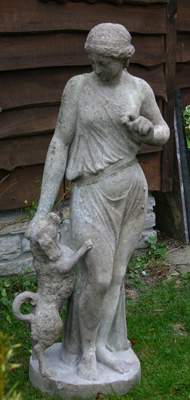 Over the years we have been lucky enough to have come across a couple of Austin & Seeley items and most recently have a wonderful figure of a girl feeding her dog . This is a charming study and it is in really good condition. We are very privileged to have it. There has been some restoration work as you might imagine on a figure of this age but relatively little.
Dating back to the mid 19th C, this is a really special item. 54in high.
The story goes that Felix Austin went into business in 1828 having bought the moulds from a firm that had gone out of business. He set up in London and described himself as architect, statuary mason and sculptor as well as artificial stone maker. His material was made from Portland cement, broken stone, pounded marble and course sand. Wishing to surround himself with the best people, it was in 1840 that he went into partnership with John Seeley and in 1841 their first catalogue was published. The Preface starts off "Austin's Artificial Stone is of a light tint, requires no painting or colouring, will not sustain injury from the works. Its superiority is now so thoroughly established, that the most eminent Architects and scientific Gentlemen have expressed, in the highest terms, their approbation of its durability and close resemblance to the real stone."
Well – that does it for me!!
We have had a sundial, a pair of acanthus leaf urns and now this lovely statue.
Varied Stock
We have a really lovely varied stock at the moment.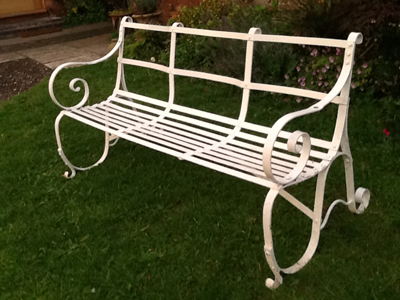 Some huge staddle stones, sundials of varying grandness, a couple of bird baths, stone troughs, some wonderful copper pots and statues. One large Austin and Seeley, a lovely figure of a boy with his puppy in lead – J.P. White from early 1900s, a lead cherub on a tall stone pillar which is really pretty and then there are a pair of lead seasons figures which are very intricate and a Dickens type character in lead too. Such a lovely mixture of interesting and unusual items.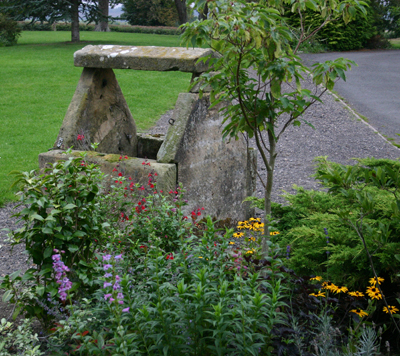 This is a great time for gardens - summer is going on and on into Autumn. Soon the flowers will start to move towards Winter but statuary and stone, lead and copper remain to decorate your garden throughout. Why not check out our stock and see if that special something you have been looking for is waiting for you there.
Planting Ideas............
I have been asked by so many people to detail the planting I put into the troughs and coppers at the Chelsea Flower Show this year.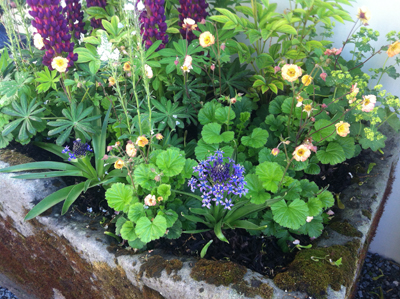 I am very happy to do that and hope in future newsletters to come up with some planting ideas. It is so nice to have a garden in a stone trough – good depth of planting, cool soil, perhaps a solution for a difficult area of the garden and the stone complements the plants so well.
It has to be said that for the shows I plant the troughs with many more plants than is necessary normally, so I would advise a lesser amount of each plant. However if it is the full look you want you will have to thin them out as they grow.
So watch this space in the next newsletter and I will detail particuar plants that I have used.