J's Garden Notes
Spring 2011
Spring 2011 - J's Garden Notes
How to create a colourful garden by Philippa Pearson
Over the last few years, gardens at the RHS Chelsea Flower Show have been a cascade of muted colour. All very contemporary and charming but leaving me crying out for more vibrant colour. In harsh economic times we need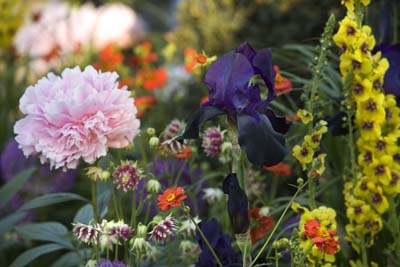 something to cheer us up and the colourful planting of timeless traditional English borders is where we need to be looking for inspiration.
Using more colour in your garden can be a bit daunting. Recent years have seen the emergence of the 'Hot' border, a riotous mix of bright reds, oranges and yellows that look dazzling in the right setting, but can look a bit garish if no thought has been given to placement and plant combinations. Far better to blend colours like those on a colour wheel as this creates a more harmonious effect and is easier on the eye. Gertrude Jekyll was pretty clever at doing this and graded her borders beginning with cool blues and purples at one end merging into the warmer and hotter colours at the middle, then seamlessly moving back to shades of blue at the other end of the border. She was quite daring in her use of colour yet her planting is seen as quintessentially English in style and look.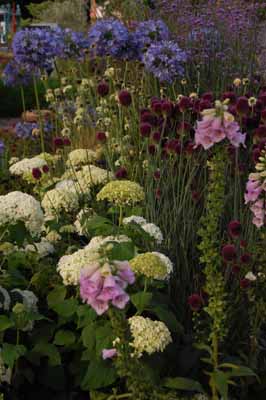 One of Jekyll's keys to success with her colourful planting was to add 'breathing' spaces into her schemes, punctuation points in the planting where there is time to pause and draw breath before continuing with the colour. She did this in two ways: firstly, she used groups of neutral plants such as Bergenia and Stachys in groups of at least seven and repeated at various stages along the border; secondly, she weaved in splashes of white. This approach magically blends all the colourful planting together and some good white plants to select from include white dahlias, Phlox, Chrysanthemum, snapdragon, Gyphsophila and the very useful annual Cosmos bipinnatus 'Purity' or 'Sonata White' which has the added advantage of feather mid-green foliage. I also like to use Alchmeilla mollis in my border designs as punctuation points. The pretty lime green flowers blend with anything and everything, cut them back after flowering for a repeat performance later in the season, and the foliage looks particularly interesting after rain when droplets of water remain on the leaves like huge crystals of glass that sparkle in the sun.
Don't forget to add trees and shrubs into your borders to add colour and interest in the winter months. Cornus alba 'Sibirica', dogwood, has stunning red stems after the colourful autumn foliage has fallen; Prunus serrula, the Tibetan Cherry, has tactile peeling tawny-red coloured bark throughout the year, flowers in spring and good autumn colour; Rosa glauca has greeny grey foliage, pretty single flowers and lots of hips in autumn.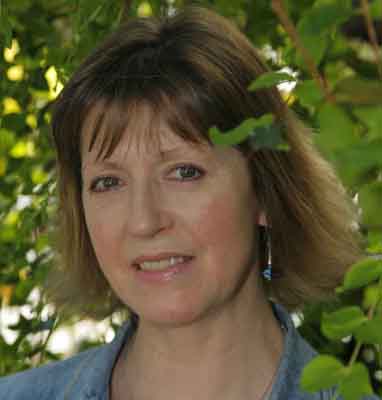 Garden designer and RHS medal award winner Philippa Pearson
'Occasionally there comes a magic moment when perfect peace descends on you, and you recognize that there is a total absence of disharmony between all the elements involved – the building, the character of the manmade gardens and that of the countryside around – and you know that this is the ideal you are striving to achieve in your work.'
A comment on designing a garden quoted from 'A Gardener's Life The Dowager Marchioness of Salisbury' published by Frances Lincoln Ltd
RHS Chelsea Flower Show 2011
It is not long now until the 2011 Chelsea Flower Show and we are really looking forward to exhibiting there again this year. If you came last year we are in the same position - PW/40 in Pavilion Way. We are on the north side of the flower Pavilion with our backs to the Pavilion. We have our largest ever stock available to choose from. Should you wish a preview prior to the show please do have a good browse through our website on www.jsgardens.co.uk as all our available stock is kept up to date on there. Alternatively do come and see us - 01992 443055 to arrange please.
We look forward to seeing you at Chelsea 24th - 28th May or perhaps at Hampton Court where we are stand no PK/149 from 5th to 10th July.
Burghley Horse Trials
After three years at the Burghley Horse Trials we have decided not to go back again this year. Apologies to our regular Burghley customers. We are happy to offer you free delivery should you wish to choose any items from our website.
---
Baby Hercules
This is a lead statue we currently have, a charming portrayal of the baby Hercules fighting with a snake.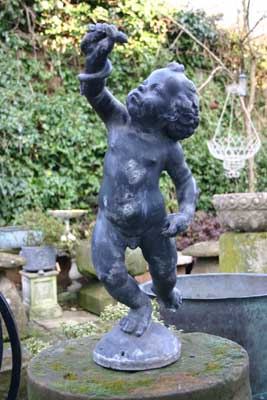 The story goes that Hera, wife of Zeus, was angry at the news of the birth of Hercules and so she sent snakes to the cradle of the baby to kill him. The baby Hercules rose up and killed the snakes with his bare hands. Thus demonstrating his incredible strength.
This depiction of baby Hercules we believe is of Dutch origin from the mid to late 19th Century. It is extremely heavy, fine quality and has charming features. The detail in the fingers, face, hair and toes shows off the quality of the piece.
This subject has more often been seen as a fountain piece. This has never been a fountain. It stands 60cm/2ft tall and can be seen with full details in our Statuary section.
Victorian Orchid Pots
I was very lucky a few years ago to come across a collection of extremely rare Victorian orchid pots from the grounds of an ex orchid nursery. The orchid pots were mixed in with a large quantity of other terracotta pots and although there were not many these pots are not often seen available nowadays and there were several sizes of the pots as you can see from the picture.
Orchids grow in the wild in trees with their roots hanging. These pots with their holes allow the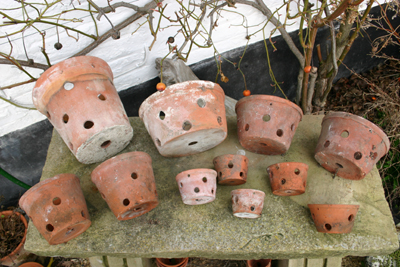 roots to behave as they would in the wild. I certainly grow my orchids in these pots and they love them, wrapping their roots through and around the holes and clinging to the pot as they would the branches of the trees.
I have also found a couple of cast iron orchid stands. These would have been used to display the finest orchid show of flowers. Orchids would be grown in the glasshouses or greenhouses of large estates and then as they looked their best brought in to the main house and displayed on one of these stands. The pots I have left from this collection are not any more shown on the website. If you are interested please call me direct.
J's Garden Notes
This is the first edition of our newsletter - J's Garden Notes. We propose to publish just 3 a year - Spring, Summer and Autumn - each will contain a main article written by a prominent garden, antique or other specialist with some information on the author too. To accompany this there will be just a few snippets put together - information which we found interesting or useful which we felt you might too.
If you would like to be included in the link to this newsletter as it comes out please let us know through the relevant box on the home page of the website or just by dropping me an email to julia@jsgardens.co.uk.
If you have received an email about this and you would wish not to be included in future please let me know.
Julia Skinner