J's Garden Notes
Spring 2015
Spring 2015 - J's Garden Notes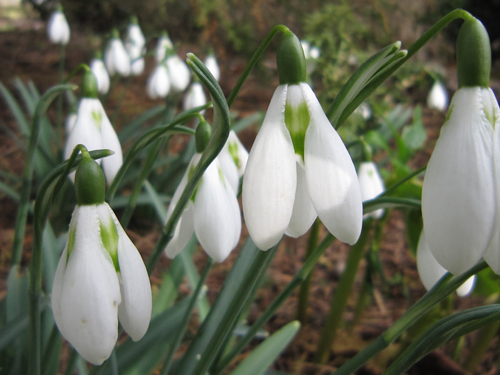 Container Gardening - Snowdrops
Rosemary Campbell-Preston
It is snowdrop time again. In spite of the cold this week they are all appearing and bringing joy to all those galanthophiles across the country. I suppose that I now include myself in this happy band of plant lovers as the arrival of these beautiful white flowers heralds early spring and I do find they are exciting to look at and enjoy. In fact in quiet moments I find myself trying to memorise the markings of the snowdrops I love the best.
However there is a problem this year. Each new snowdrop season I try to add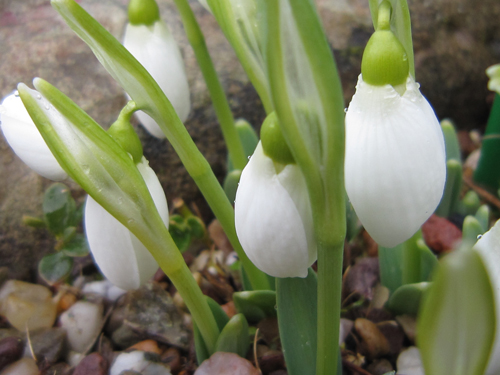 to my small collection, perhaps three of four new plants each spring. I find that my Galanthus 'Lapwing' which should be emerging close to its appointed label, has flown off somewhere. I have plenty of mice about in the garden but I know they avoid these plants and this delightful snowdrop cultivar has obviously fallen victim to one of my summer weeding expeditions from last year. One way to avoid this plant loss is to grow your best and most loved snowdrops in containers where they can be appreciated as they flower but then cared for during the rest of the year when they are not vulnerable to other gardening activities.
This may not work for all species and cultivars but in a beautiful Northamptonshire garden I visited this week I saw how well this system worked. So I am off to buy some of those gorgeous old stone sinks and to retrieve and replant my Lapwing when I find where it has landed in my flower bed.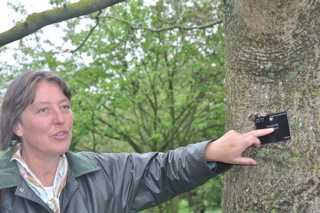 Rosemary Campbell-Preston is principal of The Plant School. The school is based at the Garden Museum, Central London and takes students of all ages and capabilities. All courses run once a month through the year from September to the following June.
To find out more about The Plant Course, The Tree Course and other courses and plant tours go to www.theplantschool.org
Inspiration:
Inspiration in the garden is drawn, isn't it, from a lifetime of 'feeding the boiler' with ideas, experiences and admiration. When I think back, I have been building gardens all my life. As a child my mother introduced me to the pleasures of growing things. I had my little garden to tend and I would spend hours in the wood making miniature gardens with mosses and bark, daisies etc. At school I used to grow things in the crooks of the tallest trees in the wood (why, who knows, but it was fun to see if they would grow).
Later on I drew inspiration from several incredibly talented gardeners, one of which was Nancy Chaplain. She lived in the next door village and was a friend of my mothers. At that time she headed up the team of Garden Guides that were operating in the 1980's in the wonderful gardens of Lady Salisbury at Hatfield House.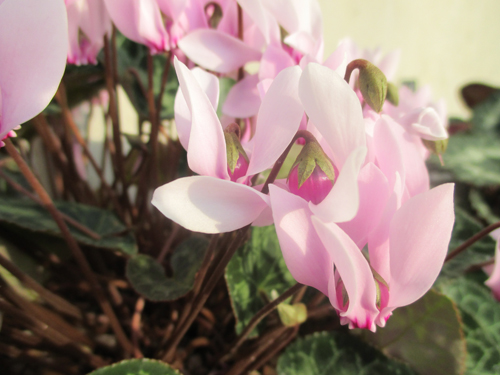 Nancy used to write a monthly missive with her garden tips for the local parish mag which I always cut out and kept as it was full of ideas and advice. She said that she used many of these articles to form the book she wrote.
She sadly died many years ago now but I always refer to her much treasured little book – A Year in My Garden published in 2002. It is packed full of wisdom throughout the year in the garden, practical, tried and tested genius. I highly recommend it to you.
She had a very 'old English' way about her and her garden reflected that – quiet and charming with real brilliance in her plant combinations. I was lucky enough to be talked around her garden on a few occasions and memories of her planting inspires me in my own planning over and over again.
She wrote: "February is the month when the garden wakes into life and is in many ways the most exciting time of the year. Unless the ground is still in the grip of frost, green shoots of early bulbs are poking up everywhere. It should be possible even in the smallest garden to tuck in some clumps of these little early bulbs. It is particularly worthwhile if you can find a place close to the house and enjoy them through the windows or perhaps near a doorway where they will greet you as you go out and welcome you home again. They will be happy to grow underneath the leaves of any plant that dies back in winter, when they can enjoy light and air, and once their foliage has died down they will retreat underground until the following spring"
Her choice for snowdrops would be the common but lovely Galanthus nivalis and a slightly taller one – Galanthus plicatus 'Warham' which, as the story goes was brought back by a soldier fighting in the Crimean War to Ireland as a present for his sister. Coming from a sun baked country they are happier in drier conditions than nivalis which prefers moist, shady soil. If moving snowdrops in the garden it is best to do so 'whilst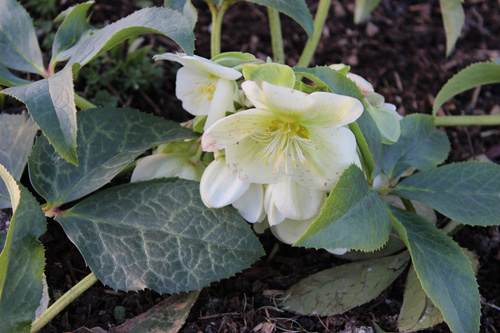 the leaves are still green' immediately after flowering. She also has a tip for planting bulbs – that they should have twice as much soil over them as their own height, so for a snowdrop bulb that would be around 2in or 5cm.
Nancy, like my mother also had a real passion for old roses. One that I unsuprisingly also share! My mother's garden, like Nancys was full of rambling roses over apple trees, shrub roses of all sorts and colours and scents. She would plant Clematis cleverly partnered and running through the climbing roses on the house, giving mixes of colour. A real pleasure but that is for another day I feel.
Ice Houses of the 18th Century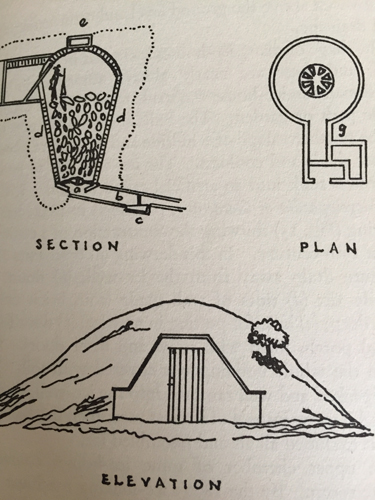 Ice houses in the 18th and some of the 19th Century were a crucial part of life in a large country house.
I am fascinated by how these were constructed so that you could store ice for up to three years at a time. Ice or snow would be collected during the winter months, compacted down to exclude any air and then would remain as ice for long periods of time for use in the house.
The key was to not only site the ice house in a cool, perhaps north facing position, in the shade but that it was very well drained and dry. The dryness was the vital element in the preservation of the ice. Compacted to exclude all air, kept centally in the raised structure.
This drawing is taken from J.C.Loudon's 'An Encyclopaedia of Gardening' 1834 and shows a 19thC ice house as a raised mound of earth with a central core. The walls (d) would have been constructed in brick and have been 2 feet deep. The drain at the base of the ice well a) and b) was very important for draining off any moisture from the ice. The ice was topped up through the top hatch e) and used and accessed through the door f). Often these buildings had a cold storage room above the ice well - a fridge.
Ice houses were used through the 18th, 19th and into the early 20th century but mostly were replaced by ice making machines in the 1870's.
(Thank you to English Garden Ornament by Paul Edwards for information regarding ice houses)
Words for a sundial: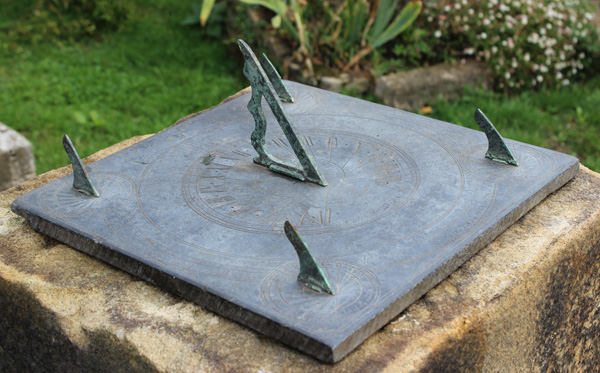 Time passes, the hour rushes on, the day flies, the year flies away, life vanishes, surely we are as a shadow.
Sorrows are mixed with joys, shadows with sunshine, So is the life of man, so is the measure of our days.

The line and shadow mark the day, fleeting both, Index and gnomon of thy life who seest this.Life flies like a shadow; by shadows one passes to the shade.

Words by the Rev. W.D. Sweeting from "Musae Subsecivae, seu Poemata Stromata - J.D. Cantabridgeiensi,"1676
PERIOD/DATES/MONACHS
I don't know about you but there is so much to remember when it comes to which Period was which Date in the reign of which Monach that I have found it really helpful to have this little table. I thought that I might share it with you.
MEDIEVAL AND EARLY TUDOR
Inc Gothic pre 1500 and Renaissance c1500-1630
Dates: 1066 – 1550
Monachs: Henry VII (1485-1509); Henry VIII (1509-1547); Edward VI (1547-1553); Mary I (1553-1558)
ELIZABETHAN AND JACOBEAN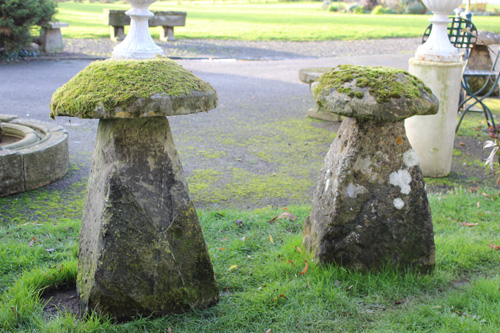 Inc Renaissance up 1630 and Baroque c1630-1720
Dates: 1550 – 1660
Monachs: Elizabeth I (1558-1603); James I (1603-1625); Charles I (1625-1649); Commonwealth (1649-1660)
RESTORATION AND QUEEN ANNE
Inc Baroque up until 1720
Dates: 1660 – 1720
Monachs: Charles II (1660-1685); James II (1685-1688); William & Mary
(1689-1702); Anne (1702-1714)
EARLY GEORGIAN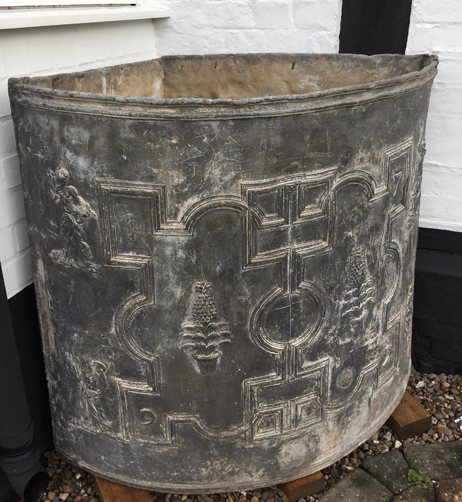 Inc Rococo c1730s-1750s and Gothic, Chinoiserie
Dates: 1720 - 1760
Monachs: George I (1714-1727); George II (1727-1760)
LATE GEORGIAN
Inc Neo-classical c1760s–1820 and Empire Style
Dates: 1760 – 1800
Monachs: George III (1760-1811)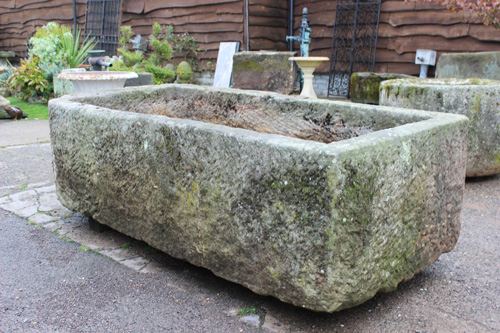 REGENCY
Inc Neo-classical up until 1820 and Empire style
Dates: 1800 – 1830
Monachs: George III (1760-1811); Price Regent (1811-1820): George IV (1820-1830)
WILLIAM IV AND EARLY VICTORIAN
Inc Revivalism; Rococo, Gothic, Old French, Japonaiserie, Classic
Dates: 1830 – 1850
Monachs: William IV (1830-1837); Victoria (1837-1901)
MID-VICTORIAN
Inc Revivalism
Dates: 1850 – 1870
Monach: Victoria (1837-1901)
LATE VICTORIAN AND EDWARDIAN
Inc Arts & Crafts c1850s-1880s and Aesthetic movement, Queen Anne Revival c1890s-1910s and Art Nouveau Liberty Style
Dates: 1870 – 1914
Monachs: Victoria (1837-1901); Edward VII (1901-1910); George V (1910-1936)
BETWEEN THE WARS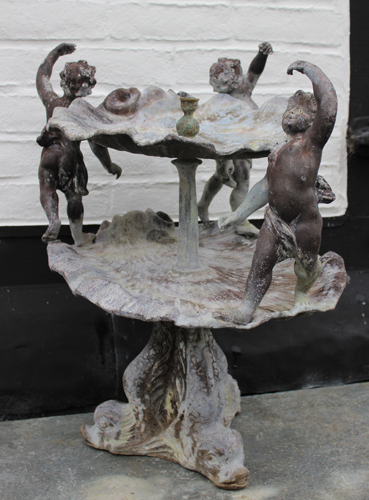 Inc Art Deco 1920s-1930s
Dates: 1914 – 1940
Monachs: George V (1910-1936); Edward VIII (1936); George VI (1936-1952)
POST-WAR YEARS
Inc Modern movement and Scandinavian style
Dates: 1940 – 1970
Monachs: George VI (1936-1952); Elizabeth II (1952-)
Shows
CHELSEA FLOWER SHOW dates are Tues 19th to Sat 23rd May Stand No: RHW 18. Same position as last year in Royal Hospital Way about half way down.
HAMPTON COURT PALACE FLOWER SHOW dates are Tues 30th June to Sun 5th July Stand No: IN/548 in the INSPIRE section of the showground and next door to the Gardeners Question Time Garden.
---
---
New Stock
- X Large Cast Iron Cauldron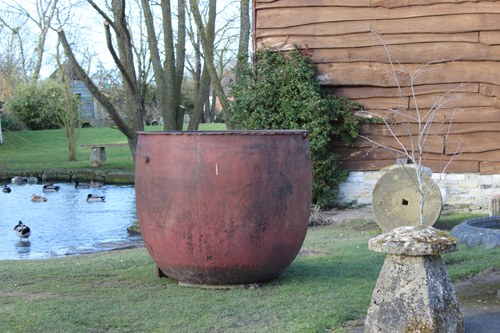 The largest (by far) pot/trough/planter/container we have ever had. It dwarfs the largest of the troughs we have and I thought they were huge.
I love this thing. It is plainly a cauldron of some sort made in cast iron. Dating back to the mid 19th Century we believe, these cauldron pots were industrially used. It could be a kibble for iron, not sure exactly. This comes out of Wales and for the past 100 years it has acted as a quenching trough in a forge. It is truly huge. I see this in a courtyard or garden of a converted warehouse, factory, water pumping station or even barn. It has tremendous presence just on its own. It would be wonderful planted with a good sized tree and underplanted with bulbs or shade loving plants or both. It would also be stunning with an iron plant support and perhaps a huge shrub rose or even a mix of rambling roses climbing up the support and cascading down the sides. A real stunner.
---
19th and 20thC Weathervanes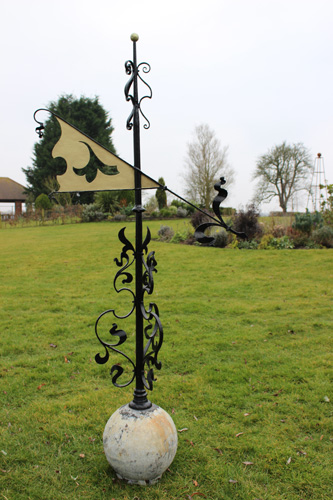 No weather vanes for years and years and then two come along together! Two very different animals here too. One (I believe to be 19th C) a very elegant sail mounted on a lead ball with billowing ribbons in ironwork. It is a beautifully made piece of art.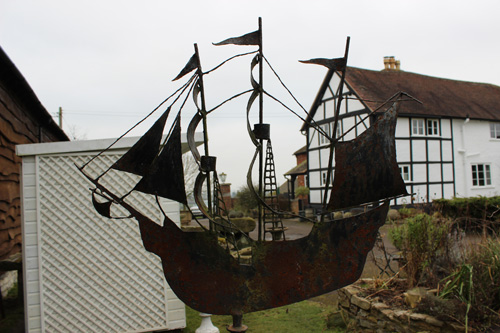 The other a wonderful galleon. I have always wanted one such as this. I always cherished a neighbours galleon weather vane when I was growing up but have not seen one until now. It is blacksmith made and a really lovely thing.
This description is taken from The Romantic History of Weather Vanes and Their Use - "The weather vane being basically comprised of a sail or flat area, for wind to blow against, and an arrow to point into the wind, afforded an opportunity for atistic expression of every conceivable kind. Everything has been cut out of these sails, including initials, dates, hearts, horseshoes, heraldic devices - sometimes even just a pattern of holes. Likewise the sail was decorated with a fancy border in the form of fleur-de-lis or balls, and then there seemed to be tails added to counterweight an overheavy arrow." Very personal items. Ducks are definitely needed for Cowsden Bank Farmhouse!
---
And Finally............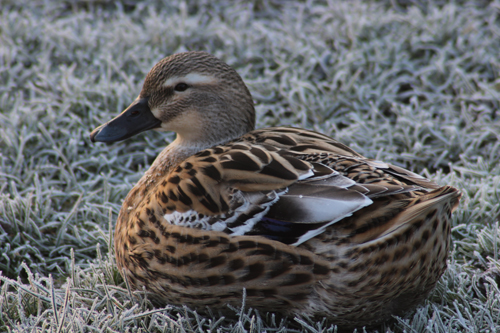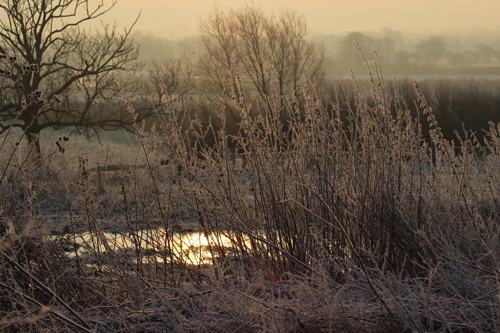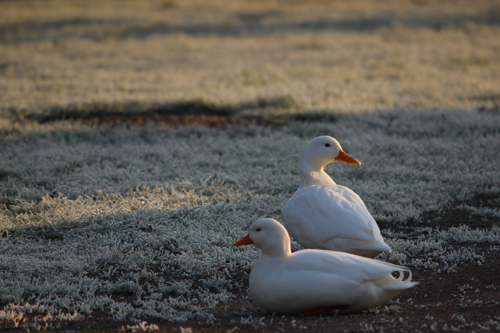 You are very welcome to come and view our full collection at our base in Cowsden, Worcestershire - WR7 4NX