J's Garden Notes
Summer Garden Notes 2018
Summer Garden Notes 2018 - J's Garden Notes
Summer 2018 - Chelsea Flower Show

Chelsea Flower Show - Setting up
We are currently setting up at the RHS Chelsea Flower Show in London.
We have a two part stand this year - Southern Row 33 (SR33) which is made up of a small orchard with statues and copper planters and a garden predominantly of stone troughs behind - a trough garden. We are showing several water features - how simple it is to achieve a lovely sound of water in even the smallest of gardens. We have two huge copper cheese vats - one full of water, bubbling in the centre - simple elegance and the other a mix of herbaceous planting and a small pool hidden in amongst the plants, giving a lovely water sound rather unexpectedly. There are a couple of other water featues in stone troughs. It is always a joy to be back at The Chelsea Flower Show. There is a special buzz about it, the best plants and a plethora of design ideas. The show opens with the press day on Monday and the gala night Monday night. Can't wait - lots still to do........
---
Stone Seats in the Garden - Setting the Tone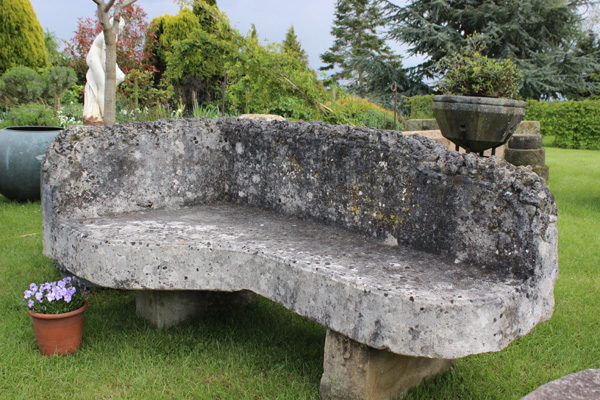 It is remarkable what an effect the additiion of a seat into a garden setting can have on the whole feel and character of the garden.
Stone seats - very grand ones or simple stone pieces put up onto stone bases; iron benches; wooden, decorative or simple seats; cast iron benches - whatever your choice
It is like a full stop in the garden. A place to pause. A quiet space. The addition of a seat will add decoration and purpose to a space and will offer a different perspective on the garden view.
'In the grey summer garden I shall find you.........'
Idyl by Seigfried Sassoon
In the grey summer garden I shall find you
With day-break and the morning hills behind you
There will be rain-wet roses, stir of wings
And down the wood a thrush that wakes and sings
Not from the past you'll come, but from that deep
Where beauty murmurs to the soul asleep
And I shall know the sense of life re-born
From dreams into the mystery of morn
Where gloom and brightness meet, and standing there
Till that calm song is done, at last we'll share
The league-spread, quiring symphonies that are
Joy in the world, and peace, and dawn's one star.
---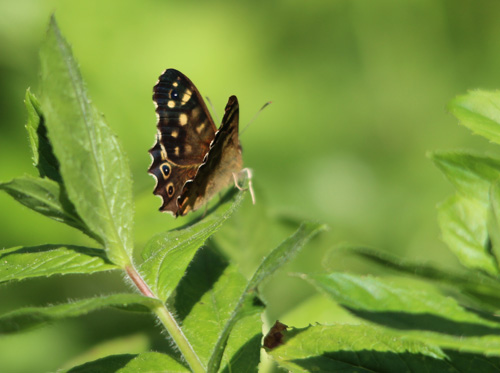 ---
GDPR
New Data Processing Security Laws
As I am sure you will be aware there are new laws coming in on 25th May which bring data protection back up to all our attention - rightly so.
We take the security of the information we keep very seriously. I would like to assure you that if we have your contact details it is because you are a current customer, previous customer, or you have signed up to our newsetter on the website. Your details are kept secure, never shared with anyone and will be updated or deleted on your instruction.
---
---
Trough Gardens – Modern and Traditional
We were recently lucky enough to buy a large collection of Yorkshire stone troughs so have a wonderfully large selection to choose from. We have at Chelsea Flower Show set up some of these as a trough garden which made me think of trough gardens as an idea for areas of courtyard or potentially walled gardens, vegetable plots, more formal areas of the garden or a solution to a tricky area where the soil is bad or non existent but is crying out for some interest and colour.
Lord and Lady Heseltine have created a whole Trough Garden, infact we supplied many of the troughs for this at Thenford House. They have created an area of carefully placed, stone troughs in varying sizes – some considerable - all planted. The area is enclosed with iron arches and railings around and a cider mill in the centre planted. Thenford House opens their lovely gardens to the public a couple of times a year. It is well worth a visit.
Traditionally trough gardens would have been a collection of smaller troughs and stone sinks planted with alpines. I fancy, however, a trough garden with large troughs predominantly planted as a courtyard garden made up of perennial flower beds in the troughs themselves. Structure plants within the planting as you would have in a flower bed which hold the space and then plants for year round interest.
At Chelsea we tend to fill the troughs to give a good display for the show. You don't need to do that, just to create the balance and seasonal planting you would have in a flower border in the garden.
It ticks all the boxes. The plants love it in the stone, stone troughs look wonderful with plants, there is a great depth of soil, good drainage and the height of the trough lends itself well for tending and maintenance, weeding etc – kind on the back and the knees!
Put at least one of the troughs to moving water and you have a fantastic garden space which if you decide to move house at any point to another part of the country you can just take with you. What's not to like?
---
Garden Antiques and Ornaments - Reusing our Rural and Industrial Past
So many of the more interesting planters, containers and urns and ornaments we have available are in fact reused items from the past.
Rural items such as stone troughs, galvanised tanks, copper water tanks, cast iron pig troughs and animal feeders, washing pots and tanks, copper coppers all make wonderful, great sized planters.
More industrial looking items such as this sundial add a really different feel. Big cast iron boiling pots, copper cheese vats or chocolate pots which can no longer be used for making foodstuffs make the most gorgeous planting vessels.
---
Cowsden Bank Robins
Right by the back door in Jon's coat – who ever thought that was a good house for the robin family?!