Wide Copper Bowl on Iron Stand (Stk No.3646)
WE ARE SORRY BUT WE HAVE NOW SOLD THIS ITEM.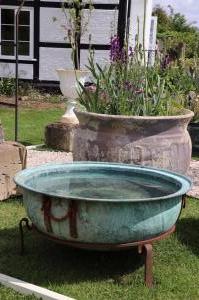 Price: £SOLD
Size: 40.5in / 1m3cm wide x 19in / 48.5cm high on stand
Type: Copper Copper
Quantity Available: 1
Stock Code: 4323646
This will make a really lovely water feature or planter. Raised off the ground on an iron stand and with great colour to the copper. A lovely thing in great condition. 3 iron handles around the bowl.