Large Derbyshire Stone Trough (Stk No.3837)
WE ARE SORRY BUT WE HAVE NOW SOLD THIS ITEM.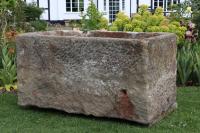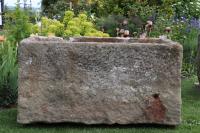 Price: £SOLD
Size: 55.5in / 1m41cm wide x 30.75in / 78cm front to back x 28.5in / 72cm high
Type: Sinks and Troughs
Quantity Available: 1
Stock Code: 4323858
Lovely large Derbyshire stone trough. Real character. Will be fantastic planted up. Not for water. There is a very old crack in the back of this trough which has been pinned with two huge pins a very long time ago. You can also see a pin across a part of the top at the back. It all adds to the character of this lovely old farm trough. Extremely sound and a fabulous trough.