SOLD 19th Century Italian Carved Stone Wellhead (Stk No.3880)
WE ARE SORRY BUT WE HAVE NOW SOLD THIS ITEM.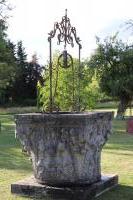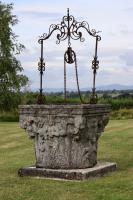 Price: £SOLD
Size: 106.5in (8ft10.5in) / 2m70cm high overall x 44.75in / 1m13.5cm x 45.5in / 1m16cm wide x 30in / 77cm wide inside well
Type: Statuary and Ornament
Quantity Available: 0
Stock Code: 4323880
A monumental and extraordinary carved Istrian stone wellhead. Late 19th century, Italian made. Intricately carved all the way around. Rope detail around the top of the square with panels depicting the king and the queen, water fountains with animal spouts, acanthus leaves and flanked by wonderul carved lion heads at each corner. Areas for additional specific heraldry or family crests. Simply the most beautiful thing. Topped with a 19th century decorative iron overthrow with pulley wheel and chain. In wonderful condition. A truly exceptional centrepiece for a walled garden, a courtyard, a rose garden, parterre, and on. I cannot recommend this highly enough.
PLEASE CALL FOR MORE DETAILS